Outside it is pouring with rain, Michael Jackson is dead, the cows in the field are hiding under the trees, the builders next door are banging on the walls and making it hard to get any work done.  Time, then, for a rambling blog post.
Went with a tent and some friends at the weekend to a field a mile or two from Weyland's Smithy.  Got very excited about folklore again.  Saxon legend had it that this place is where Weyland the Smith lived.  He made Beowulf's armour, among other things.  In the end Weyland Smithy itself was a little disappointing, chiefly because the day we went turned out to be the summer solstice and the place was heaving with people.  I had high hopes that the site of the smithy would evoke whatever atmosphere made the Saxons fill it up with folk stories, but it wasn't there that day.  Far more spine-tingling was Nina Simone singing on the radio with the campfire burning in the middle of the night.
I think this is why I'm not much of a one for literary pilgrimages.  I grew up just down the road from Thomas Hardy's house, where often there were busloads of people asking for directions to this or that location from his novels.  But it seems to me that all these places, just like Weyland's Smithy, are just mundane locations.  The real exciting stuff is going on inside our heads.  Moral of the story – always take a book with you, everywhere you go.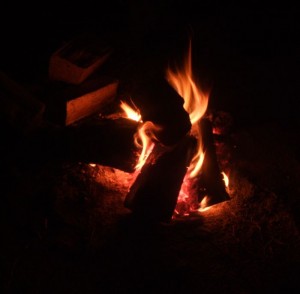 Right now I am reading Death At Intervals by Jose Saramago, listening to Phosphorescent and hoping it will stop raining.
Other news is that I'll be reading at Litro Live in Foyles on the 9th July.  It would be wonderful to see you if you can come.  I'll post more info on that soon. 
The next fairy story I'll post pictures for will be either The Juniper Tree or The Rose Tree.  But I may have to work out what kind of tree you get if you cross the two, and post pictures for both.