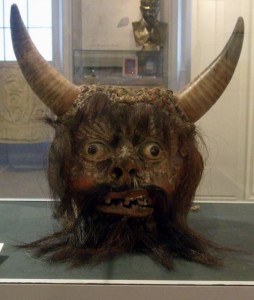 I just love this fella.  He's the Ooser (who I wrote about in the summer).  Knowing that this big, dopey-looking wooden head exists is enough to bring a smile to my face.  Since initially posting about him on this blog, I've found two great pieces of journalism that I wanted to link to.  The first is an article from the Guardian that interviews some of the Morris dancers who accompany the Ooser on his dancing trips, and the second is a short BBC video posted by folkmagic on YouTube.
Reading and watching these, the things that strike me are the comments by the dancers.  They don't appear to view themselves as pagans, or the Ooser as any sort of religious symbol.  There's no hokum here or analysis about fertility rites.  They do this simply because "it makes you feel good to be alive."  And what better thing to write about on a cold New Year's Eve than life-affirming May Day rituals?
A very happy New Year to everybody reading this.  Thanks for following this blog, and I wish you all the best for 2010.