The book industry's an odd one.  About three weeks ago I finished handwriting the first draft of my third novel, which I've since been typing up to see what I've got on my hands.  In the meantime my second book, The Man who Rained, is at the printers being turned into something glossy and pretty and ready, come January, to go out into the big wide world.  Always as a writer you're working on something a step ahead of where it appears you are now.  I was writing The Man who Rained when The Girl with Glass Feet came out, and I hope to be writing something new when/if the novel I've recently started sees the light of day.
All of that makes me really appreciative of those of you who've taken the time to read this blog, or comment on twitter or facebook or by email.  It's preciously immediate, and that (along with the fact that you're all such lovely people) is the reason why I enjoy sharing things with you.  For a while now I've been hoping to give you a new fairy tale.  It's taking me longer than anticipated so, in the meantime, here are a few previews.




The reason for the delay is the drawing of stars.  There are stars in this story, but they aren't just orbs of fire.  They're living beings, and working out how to portray them as such has stumped me.  Maybe I'm just burnt out with personification (The Man who Rained is all about the weather coming to life) but I've at least decided I want to use a certain technique to draw stars: I want to make negative images with graphite sticks and pencils, then invert them using paint software to get a luminous effect.
Here's a test run I did.  This won't make the final cut, but it gives you an idea of how the game works.  This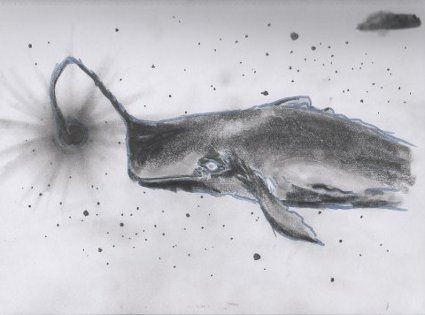 becomes this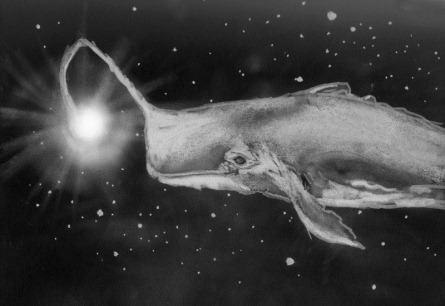 So maybe next week, maybe the week after, I'll have cracked it and can finally post the fairy story.  For now I'd better get back to the typing.  My handwriting is a tangle and unravelling it is a slow process.  Some parts I simply can't read, and I have to hold them up to the light or stare at them like magic eye patterns.  It's fun deciphering it, but it's slooooowww.
In the meantime I want to recommend this.  I hope that Ghostpoet goes on to festoon his pork pie hat with awards, for he richly deserves them.  This is a track that writers are bound to relate to, and the album Peanut Butter Blues and Melancholy Jam is swiftly becoming the soundtrack to the pitter-patter of my keyboard.  Enjoy…