I had the lovely experience last week of receiving some copies of Dziewczyna o szklanych stopach, which is the Polish edition of The Girl with Glass Feet.  Seeing your work in another language is both marvellous and surreal.  That David Copperfield thing holds true – that a book feels like a child leaving home for the first time.  I don't have a child, but I know that's right.  You hope for the best and cross your fingers, but in the end its future is out of your control.  So this… this feels like the child's come back for a visit, bringing with him his beautiful Polish girlfriend.
I may have stretched that metaphor too far, but it is exciting.  Here's an image of the cover.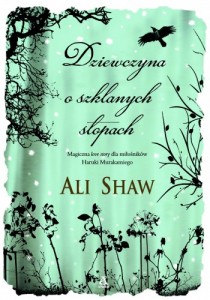 It's published by Amber and was translated by Radoslaw Januszewski, so a big, heartfelt dziekuje to them.